Quite often at TouchIT Technologies, we are asked to compare our products against other manufacturers. In this blog post we are going to look at the TouchIT Rapide versus the Sharp PN-VC862H
All non-TouchIT Image Credit – http://www.sharpdisplaysolutions.com/product/pn-vc862h
Introduction
According to Sharpdisplaysolutions.com "Sharp PN-VC862H with high picture quality and interactivity functions is also suitable for the business applications. It can simply be installed in meeting rooms to be used for presentations, video conferences, interactive lectures , and seminars . It helps business executives to have effective and distraction free presentations by facilitating interaction between the presenter and the audience. The product can play a variety of media content including images, videos, and power point presentations. The presenters and participants can share files and other materials with audience devices . In addition, presenters can control the devices of the attendees during sessions."
In our opinion, very general marketing speak here, so let's dive into the details and compare this product with the TouchIT Rapide.
Tech Specifications of Sharp PN-VC862H – from sharpdisplaysolutions.com
Display
Size
86-inch-class
Max. Resolution
3840 x 2160 pixels
Installation
Landscape
Brightness*¹
410 cd/m2
Pixel Pitch (H x V)
0.744 mm
Contrast Ratio
 1200:1
Viewing Angle (H/V)
178° / 178°
Backlight
Edge  LED
Connectivity
RGB Input
VGA In
HDMI
HDMI 1.4 + HDMI 2.0
Audio
LINE IN JACK / LINE OUT JACK
USB 
USB B-Type (For external touch only)
Touchscreen
Touch Technology
Infrared multi-touch screen
Touch Points
10 points
General
Speaker Output
8w + 8w
Power
Power Supply
110 – 240 VAC / 50 – 60Hz
Dimension  (W x D x H) (approx.) (Display only)
1975mm (L) x 1146mm (H) x 103mm (D)
Spec Analysis
From specifications along, there are a few things that jump out.
Lack of connectivity
The Sharp PN-VC862H really does not have a great deal of connectivity. There is only 1 x VGA and 2 x HDMI. Very limited for a modern Interactive Flat panel. If we compare this to the connectivity with the TouchIT Rapide, there is simply no comparison.
The TouchIT Rapide has 3 x HDMI 2.0 is has a Display Port In as well as AV In and YpBPr In and VGA too. Much more connectivity.
Lack of Audio Capabilities
The Sharp PN-VC862H would most definitely need to be connected to an external audio system. The 2 x 8W speakers are certainly not going to make a dent into an average sized meeting room. Compare this with the TouchIT Rapide which has Room Filling Audio delivered from 2 x 15W speakers, there is no comparison.
Touch Points or lack thereof.
Not a huge point here in our opinion, but the Sharp PN-VC862H only has 10pt touch whereas the TouchIT Rapide has 40pt touch – a much more modern system.
Where is the On Board Android?
The Sharp PN-VC862H does not come with an on board Android OS which is quite strange for an Interactive LED in 2020. Pretty much all the major manufactures are offing this functionality and this is import. It is important because the TouchIT Rapide comes with an Android 8.0 operating system which is powerful enough to be a "computer replacing technology". By this we mean that you can do all your daily tasks on the TouchIT Rapide directly without the need to a build in PC or connecting to your laptop.
On Board Android also gives you 1000s of Apps all available from the TouchIT App Store. This content is the "What are you going to do on the LED" – without this, its functionality is limited.
Where is the Software?
According to the sharpdisplay.com website and their own PDFs, the Sharp PN-VC862H does not come with software. It is not mentioned. It does mention that you can purchase their "display connect software" as an optional extra – why would you do that? The TouchIT Rapide comes with 1000s of Apps in the TouchIT App Store as we have already mentioned. These are FREE Apps that you can download and use in your meetings. Apps like Zoom, GotoMeeting, Adobe PDF Reader, Excel, powerPoint etc are all in the Store.
Contribute Cloud Software
Contribute Cloud Software comes as standard with the TouchIT Rapide. This software allows you to annotate, collaborate, cast and so much more. I don't want to cover all of the features in this article as we have lots and lots of material on this blog about the software. If you haven't got software included with your Interactive LED, then what are you going to do with it? It is just a glorified mouse. You need to look at the whole package of Interactive LED and Software.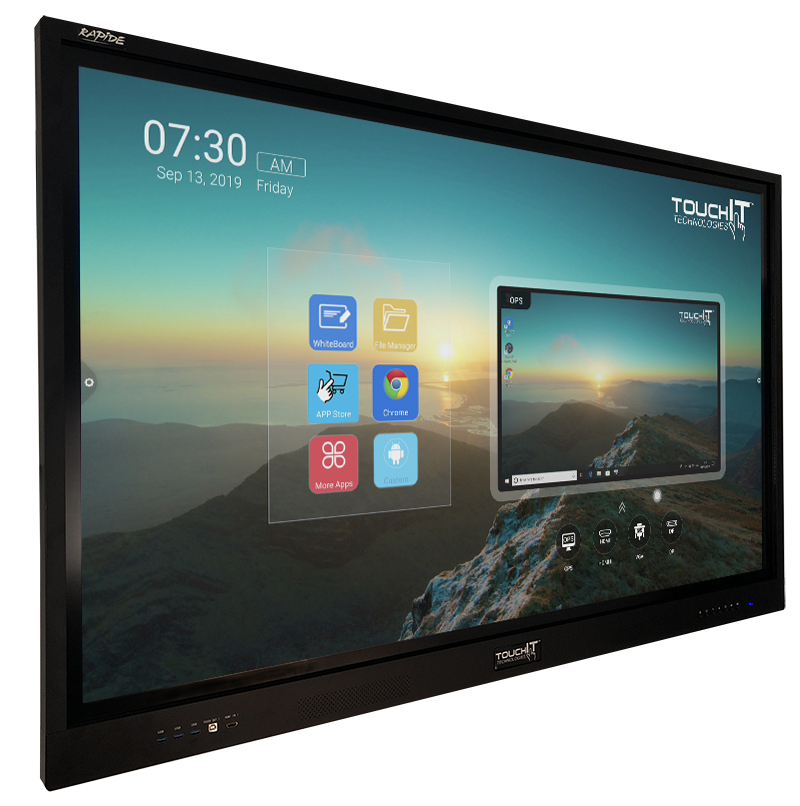 Conclusion
I'll keep this short. The lack of connectivity, poor sound specification, lack of software and lack of onboard Android OS doesn't make the Sharp PN-VC862H a bad product. It simply is not in the same league as the TouchIT Rapide. Not Apples for Apples as they say!
Thanks for reading!