We're in strange times at the moment as a country due to the COVID-19 pandemic. Our schools are closed and the responsibility of our children's learning as been passed back to us Parents. If you are beginning to get stuck for ideas of what to do, why not use our software to create an interactive quiz for your kids? In this post, I thought that I would explain how Contribute Cloud software from TouchIT Technologies can be used for Homeschooling and specifically creating quizzes; even if you don't have an Interactive Touch Screen in your home.
Free For Home Schooling
Firstly, just as in my previous couple of posts, I want to point out that are more than happy to offer our software for free if you would like to use it for homeschooling. Simply, drop us an email and we will send you a license key to activate your software. Unlimited and perpetual license. As a company, we want to do our bit to help and are not looking to profit from this.
Creating Voting and Polling Activities for use with your Kids
Voting and Polling in Contribute Cloud enables you to create a set of questions in advance that you can pose to your kids. They are able to respond to these questions and you can gather the results, display them in graphical form, share them with the kids as well as download them when they are done.
How do I create a Voting Activity in Contribute Cloud?
When you log into Contribute Cloud, in your Dashboard you will see a button on the top bar to create a voting activity.

This will then take you to a window where you need to give your Activity a name and select a folder (or create a new one) where the activity will be saved. In this example, I am creating a new folder called "test"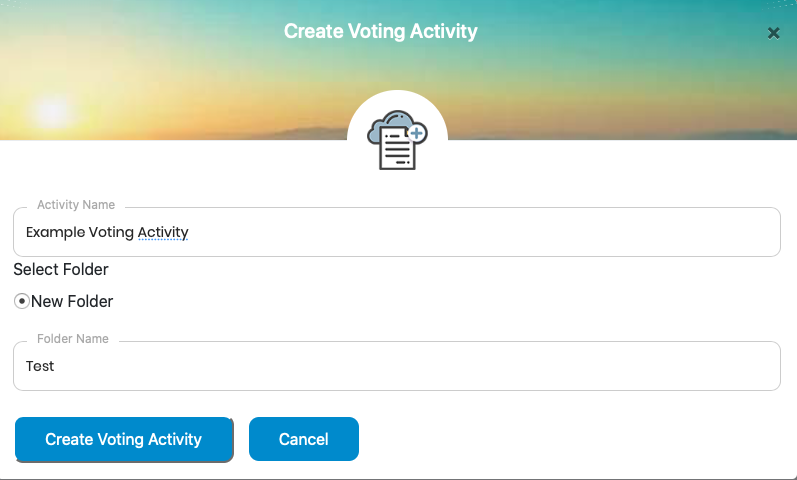 Select the Create Voting Activity then you will be taken to the question editor.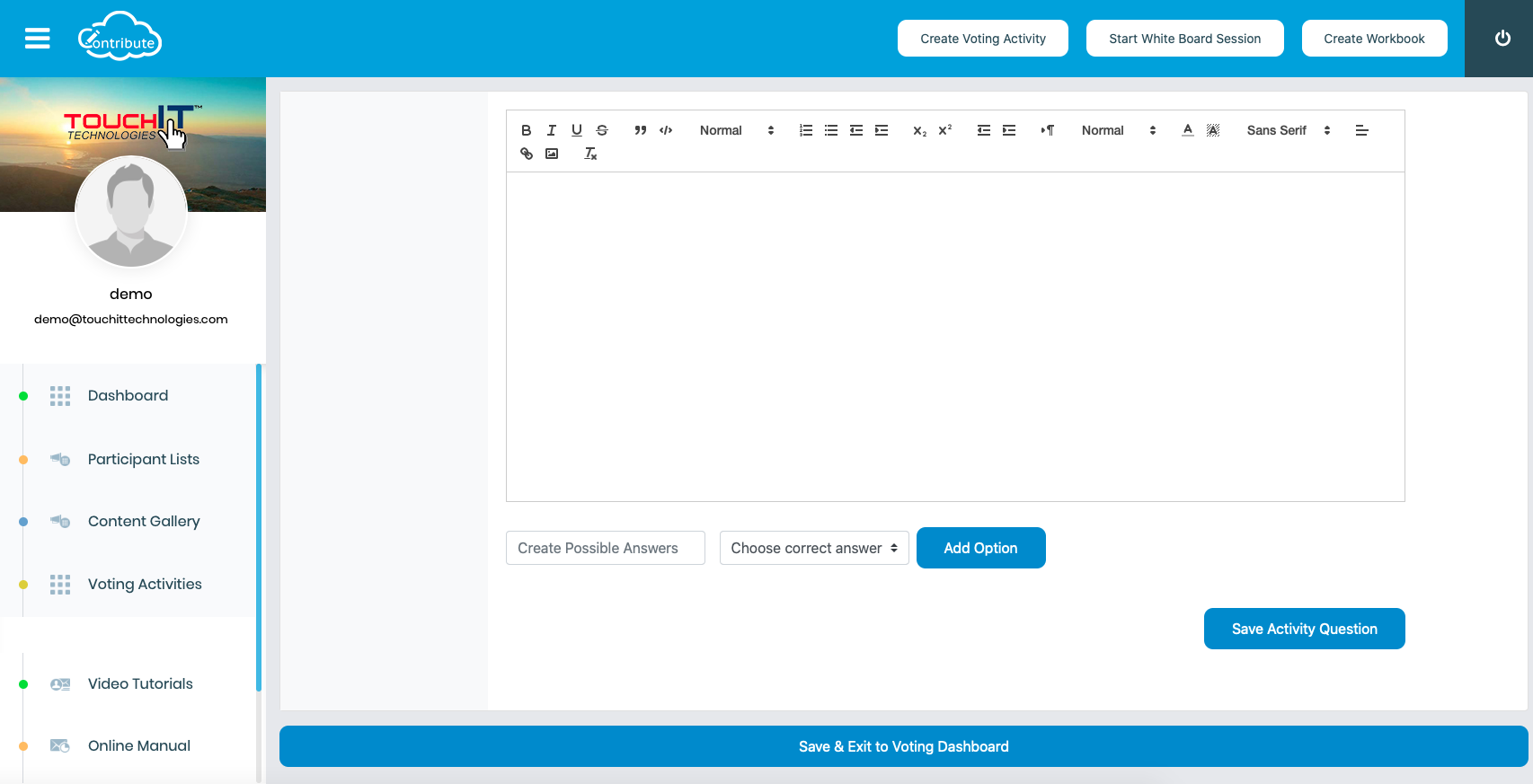 Adding questions is a simple process, In the main window which is a graphical editor, you can add your question. You then need to add possible answers by typing your answers into the "Create Possible Answers" dialogue box, then clicking "Add Option"


Here you can see that I have created 4 possible answers, I now need to use the dropdown button to select the correct answer.

When you have selected the correct answer, you will see it shown in green just like the below.

Once the question is complete, click not he "Save Activity Question" and you will see your question is created as a slide. You can then add another question if you wish.
You can use the editor to format your questions. Below I have changed the text and also added an image.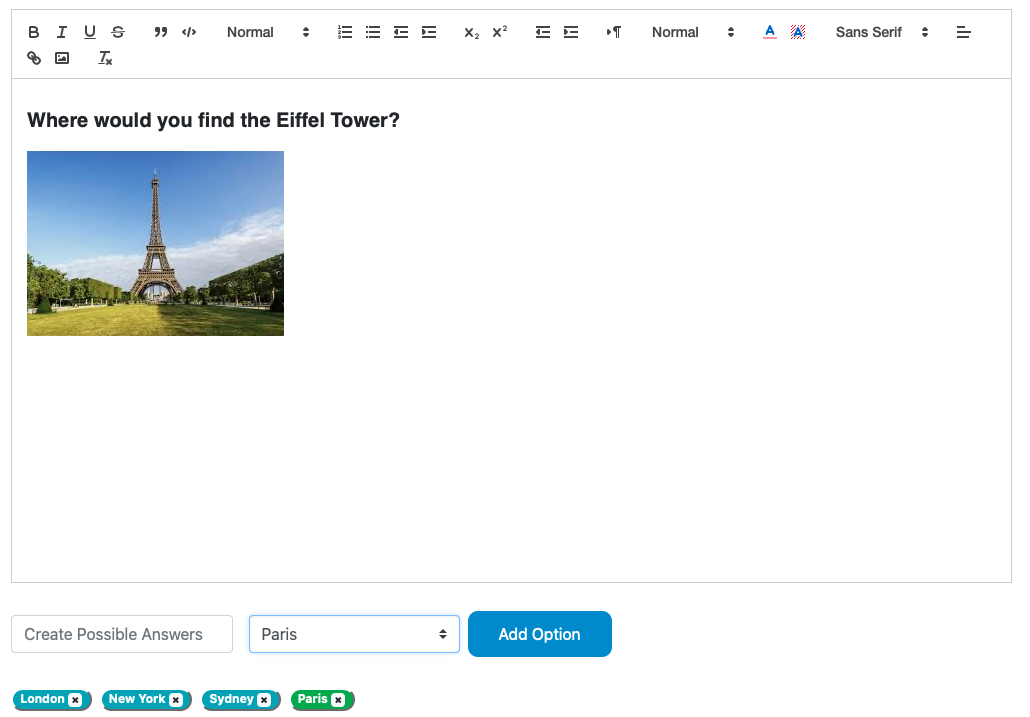 You can reorder your questions by dragging the slides into the order that you wish.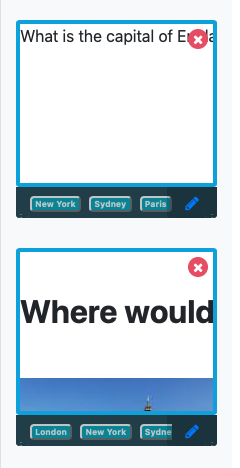 When you have finished adding all the questions, you can then "Save and Exit to Voting Dashboard"

You will see that your activity is saved with a preview, and a title. You can edit the questions by clicking on the edit button, or delete it by clicking on the trash can icon.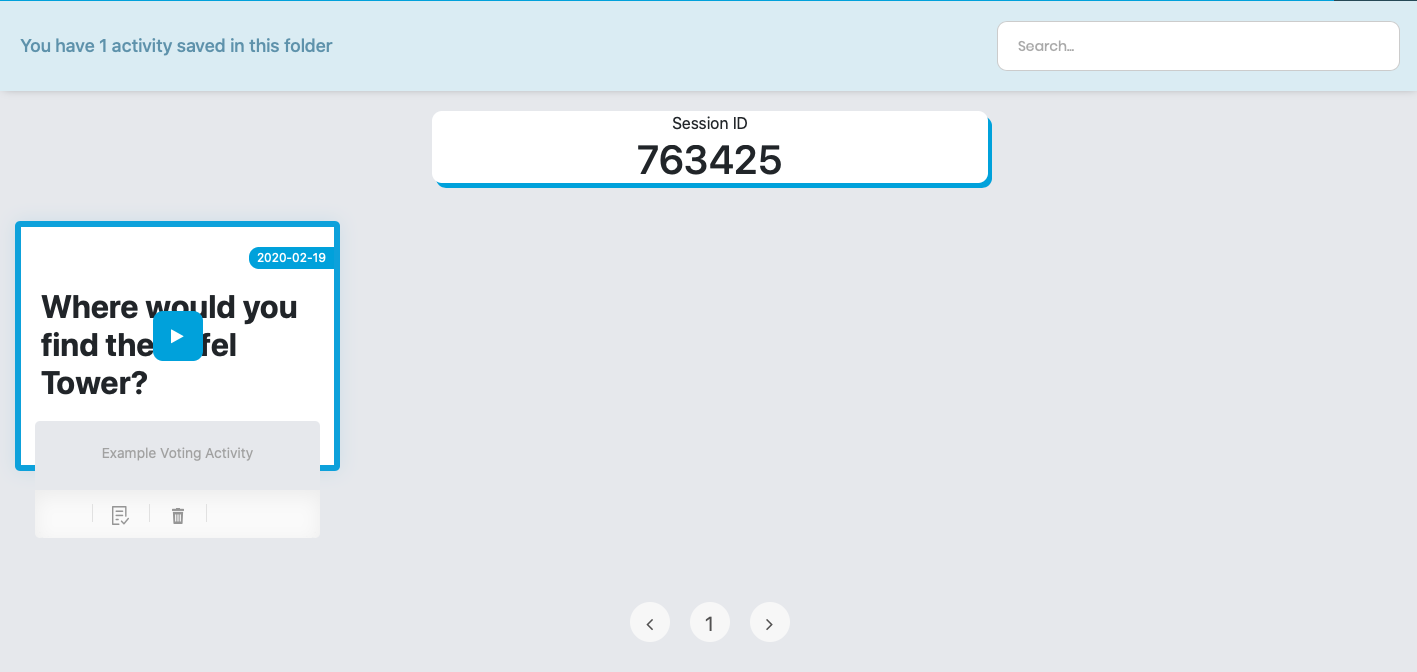 You will see that a session ID is already created for you. This is so that your students can join your voting activity without you having to start a Whiteboard Session or a Workbook in Contribute Cloud.
How do I join a Voting session?
To Join a session, on another computer (your participant or student will use their own computer) you head over to the regular address in a browser – https://join2.contribute.cloud – enter your name and the session ID.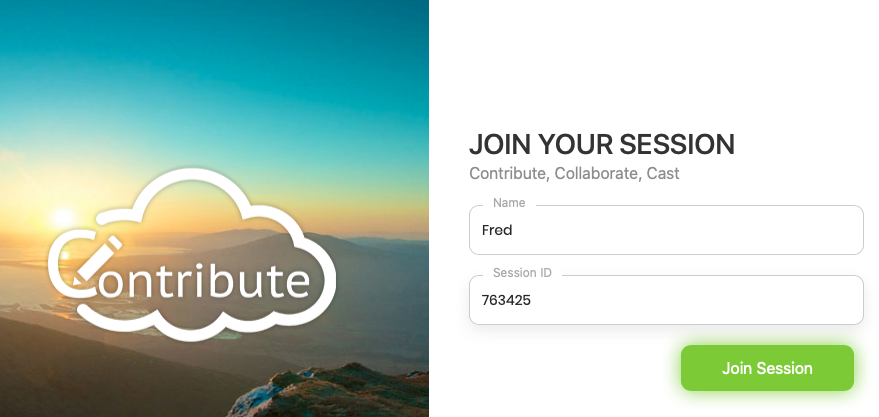 When your student or participant joins the session, they will see this message until the Teacher Starts the Voting activity.
How does the Teacher / Instructor Start a Voting Activity?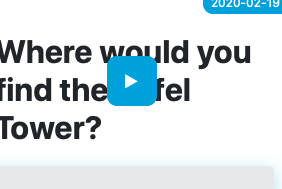 On the voting activity, you have to press the play Icon.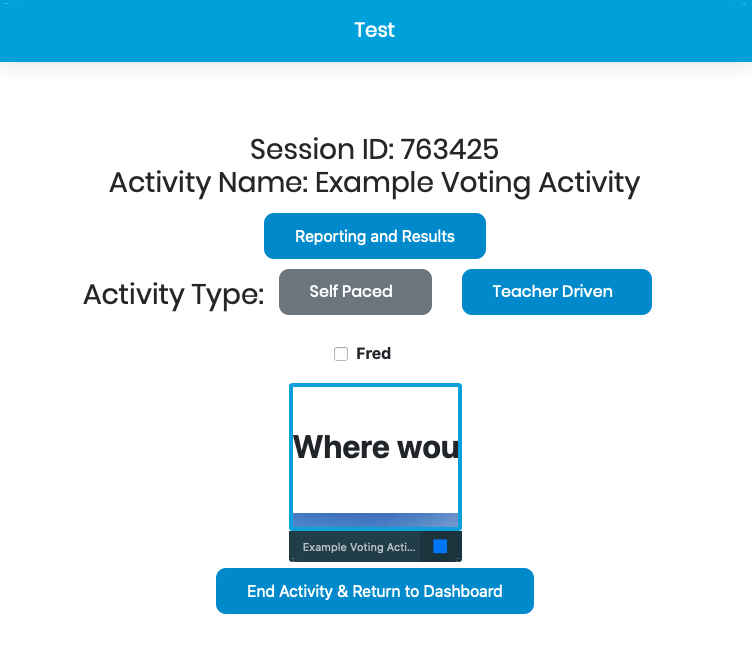 Now, the teacher or instructor has to select all the students / participants that they would like to join the session. They also need to decide whether it is a self paced activity (you can go forward and backwards through the questions art your own pace and also change your answers if you wish) or it is "teacher driven" (teacher/instructor) changes the questions when they are ready and participants/students are not able to go back through the questions or change their answers.
For this example, we are going to use self paced, and we have put a check in the box for "Fred" to start the activity.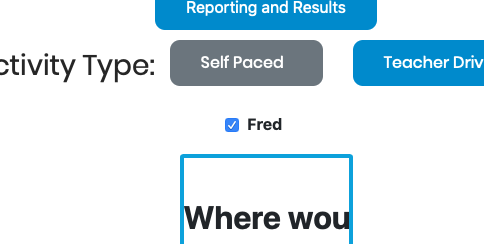 On Fred's computer, he now sees the question and options.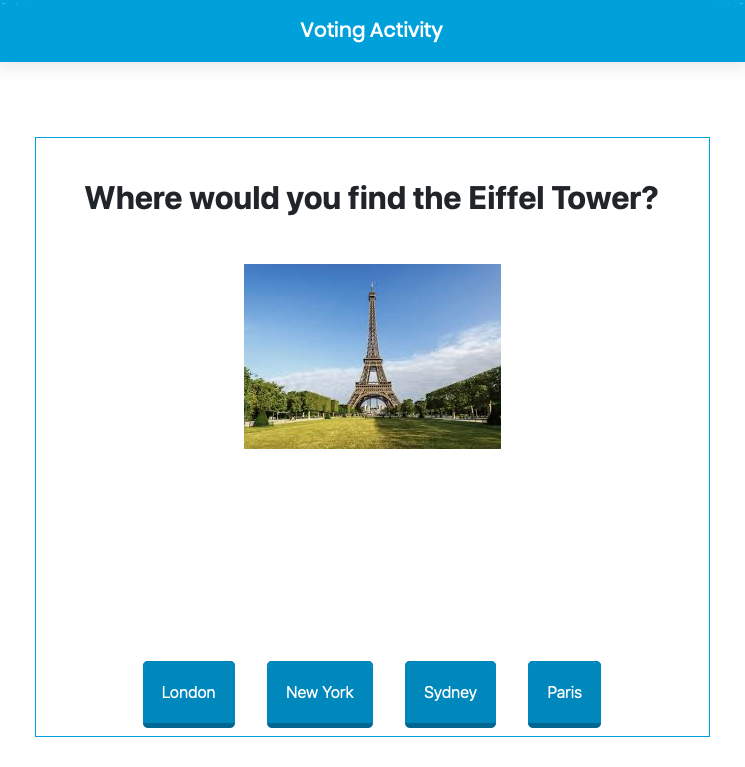 Using his mouse he can then select the answer. Once selected, he will then see a red arrow to move onto the next question. In the image below, you can see that Fred has chosen Paris as the option and is ready to move to the next question.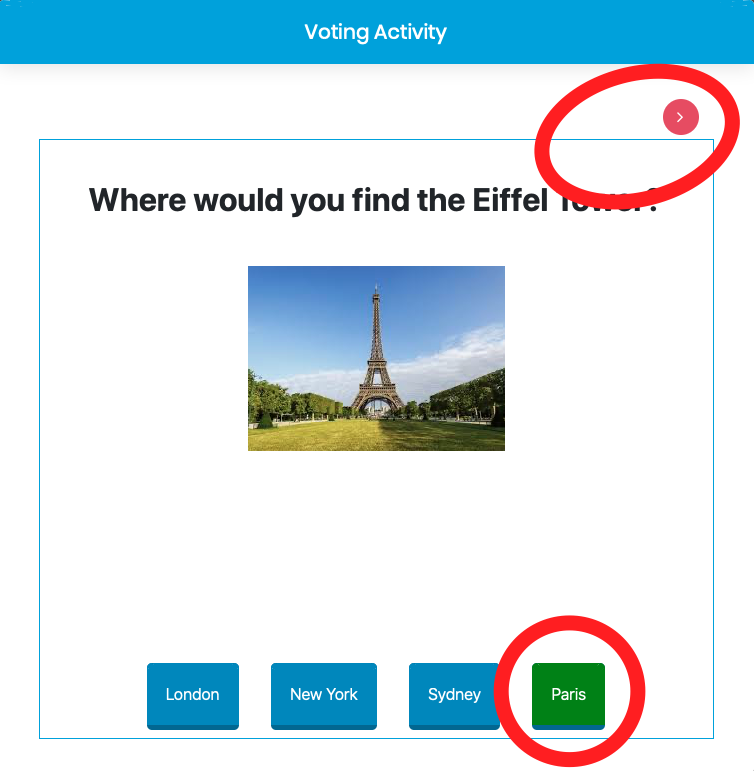 When all the questions have been answered the participant or student will see this screen. As this is in self paced mode, you can see there is a back arrow if they want to go back through the questions.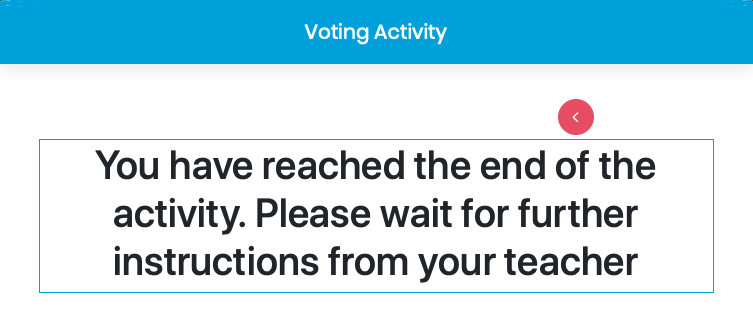 How does the Teacher / Instructor see the results?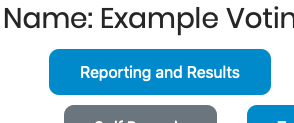 At any point during the activity, the teacher can check on the results by clicking on this button.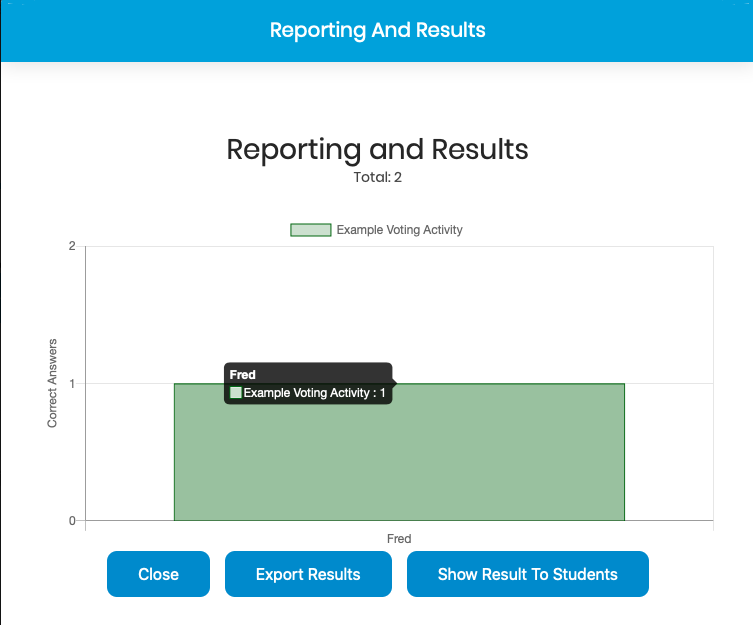 In our example activity with 1 student, Fred, you can see that he has got 1/2 questions right. By clicking on the "Show results to Students" button you can share this information with the students on their own screen.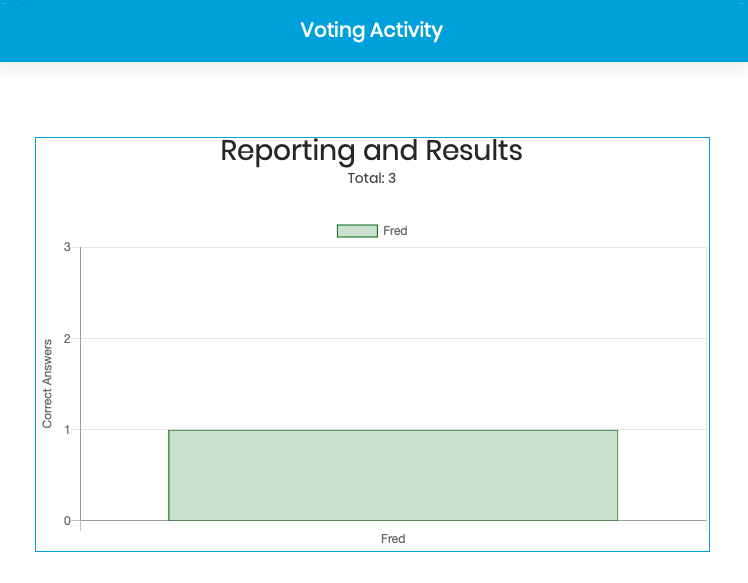 The teacher can also download the results into Excel. We can see the correct answer, how the students have answered and their score/percentage at the bottom of the chart.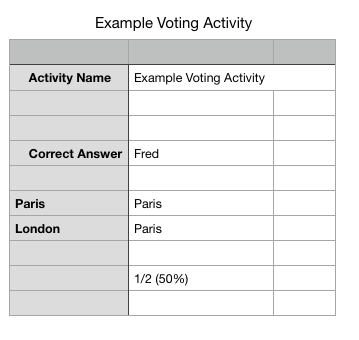 Clicking on the button below finishes the activity, closes it for the students/participants who are re-directed to the join page once again and the teacher/instructor is returned to the Voting Dashboard.

When you return to the dashboard, there is a new voting session ID so you can start a new activity. Your voting folders are availably from the burger menu.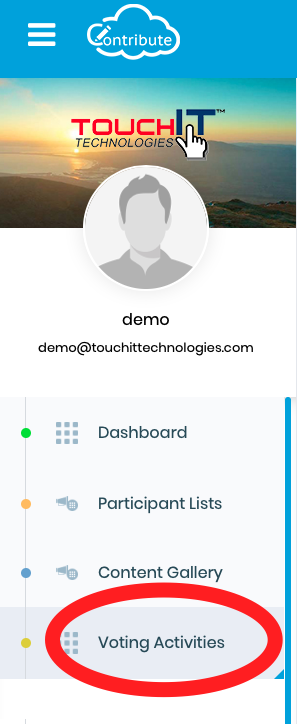 Starting a Voting Activity during a Cloud Session or Whiteboard Session.
If you have already started a Workbook session or a Whiteboard Session in Contribute Cloud, you are also able to start a voting activity. If you click on the Toolbar, you will see there is a Voting Option.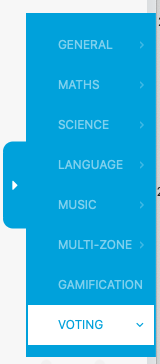 You are able to navigate through the folders that you have created to find and start your voting activity.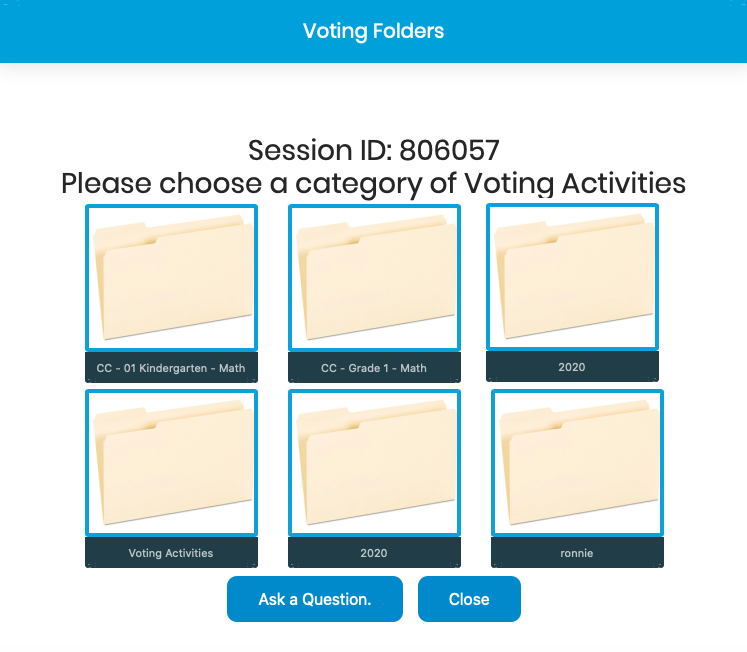 As before, click play on the desired activity and select the students to join your activity.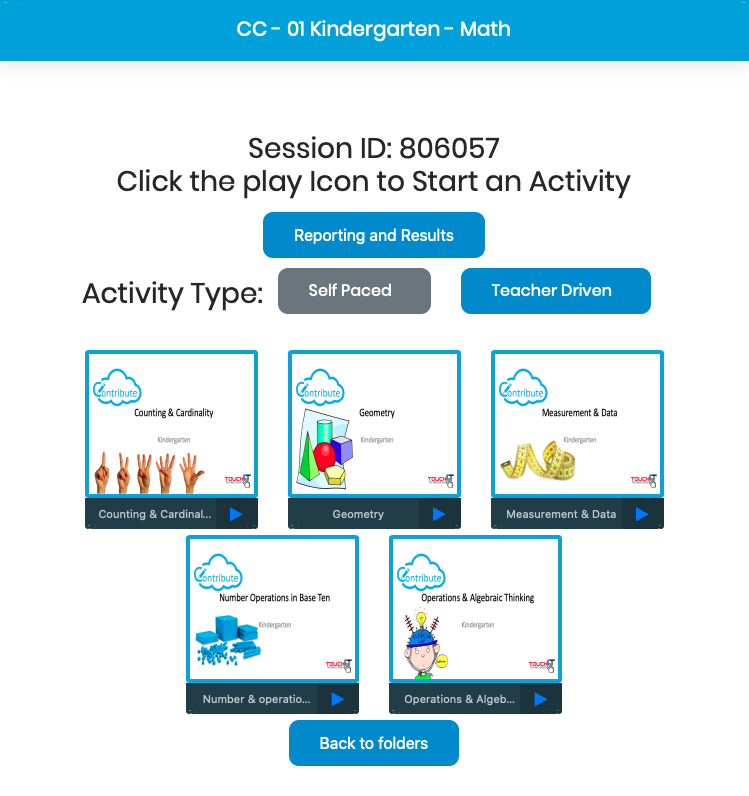 Live Questions

By clicking on the "Ask a Question" button you are able to either create a live question, or use one of the pre-defined questions for your group.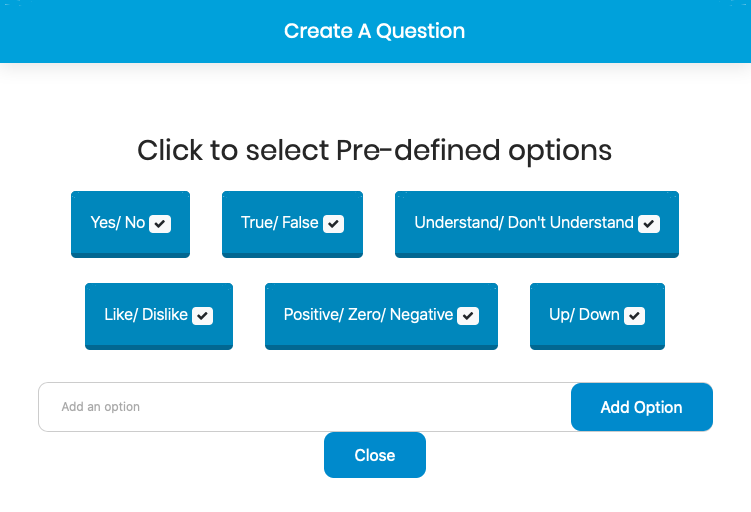 Here I have selected the "Understand / Don't Understand" questions.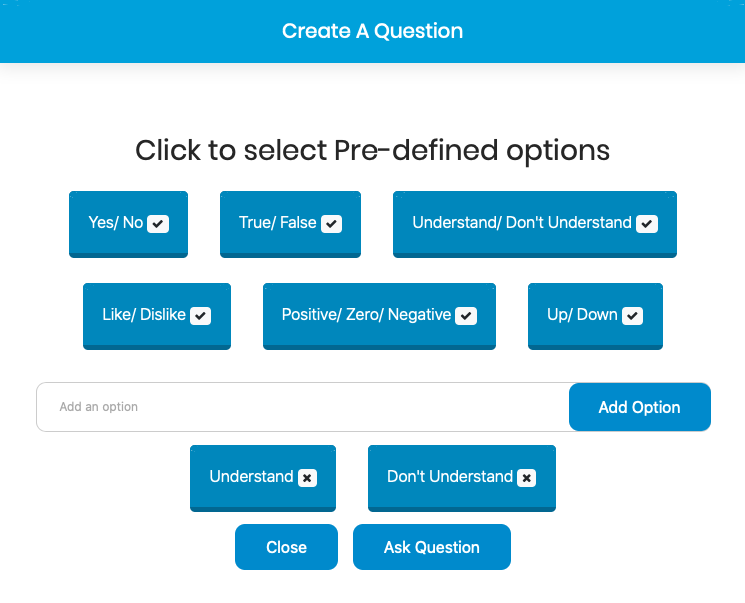 I then click on Ask Question and select the students to ask it to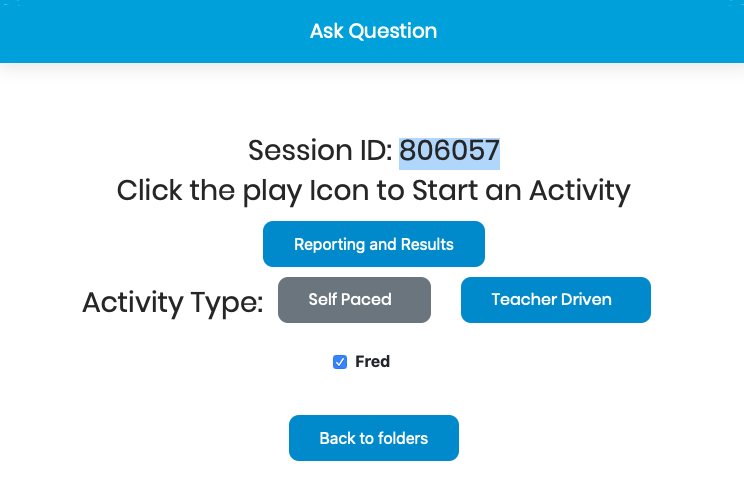 My student is then able to respond to the question and the teacher / instructor as before is able to check on the results.