Multi-Person, non-contact, socially distanced Elevated Temperature Screening Kiosk with integrated Digital Signage from TouchIT Technologies.
Advanced Group Temperature Screening and Digital Signage in one product
Portable Stand-Alone Kiosk with Integrated Thermal Camera, 55″ Display and Build-in PC
F3VR Check Kiosk from TouchIT Technologies enables multi-person, socially-distanced, non-contact elevated temperature screening in almost any location. Combined with Digital Signage the F3VR Check Kiosk allows you to safely monitor your workforce, colleagues, visitors, students or anyone that is entering your building whilst displaying relevant and helpful digital signage on the 55″ LED Touch Screen.
F3VR Check Kiosk is an all-in-one solution to help make your building a safer place to be.
Set alarms for any elevated temperatures that are detected allowing you to work safe in the knowledge you are doing all you can to monitor the wellbeing on those around you.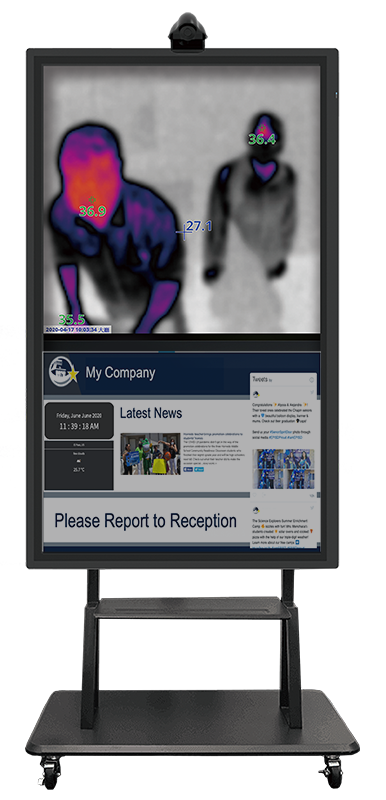 The F3VR Check Kiosk from TouchIT Technologies comes with both the Digital Signage Software (Contribute Signage) and the F3VR Camera software pre-installed. Simply turn on the LED, configure the base temperature settings for the camera, are you are good to go. You will be monitoring temperatures in no time.
The Software is simple, easy to use and intuitive. With minimal settings, it can be operated by almost anyone with little to no learning curve.
Looking for a Demo of the Software?
Contribute Signage Software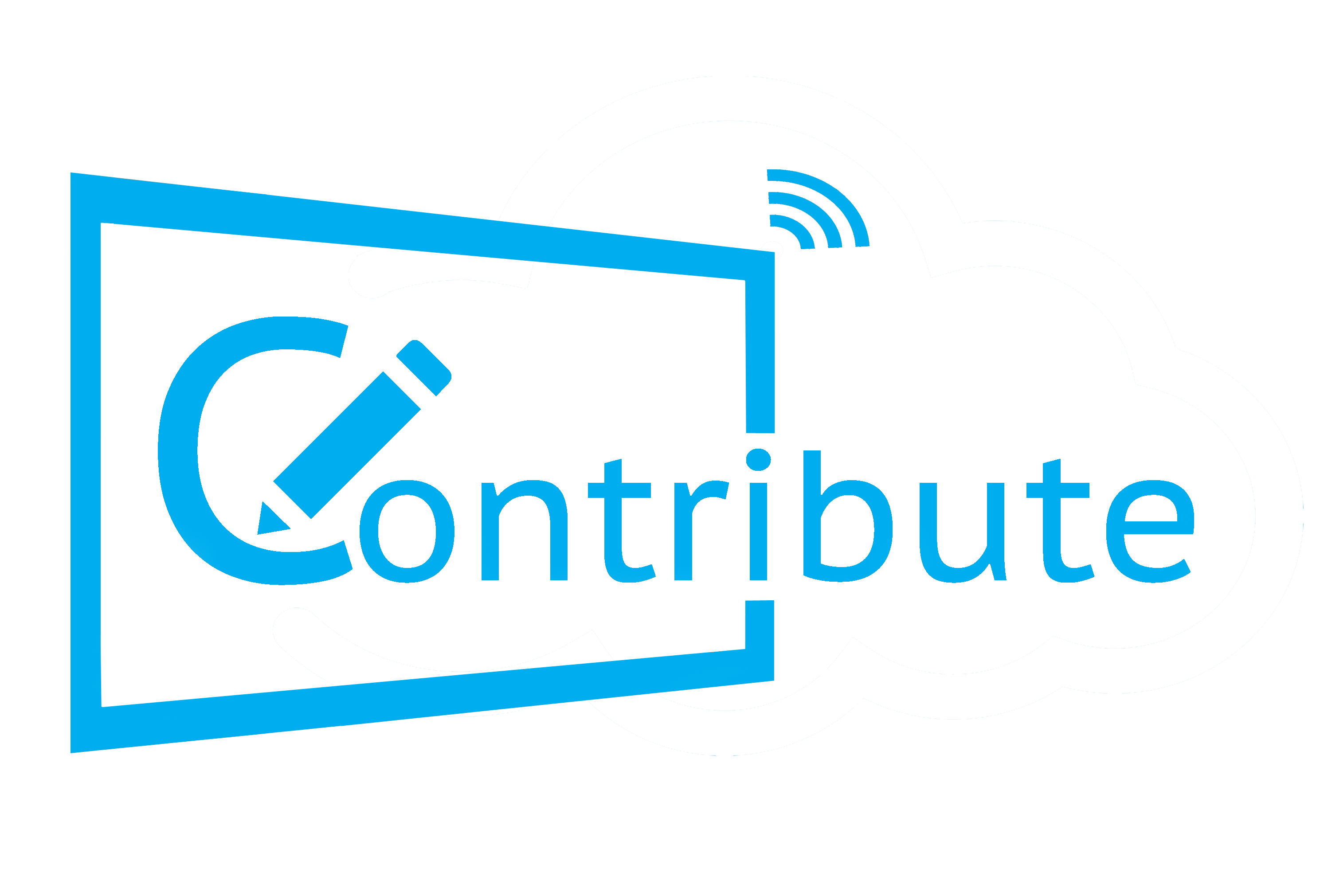 F3VR Check Kiosk comes with Contribute Signage Software. Not only are you able to monitor elevated temperatures, but you can also display Digital Signage on the screen at the same time. Keep your colleagues, workforce, visitors, students and more safe and also informed.
Total Flexibility for Layout Creation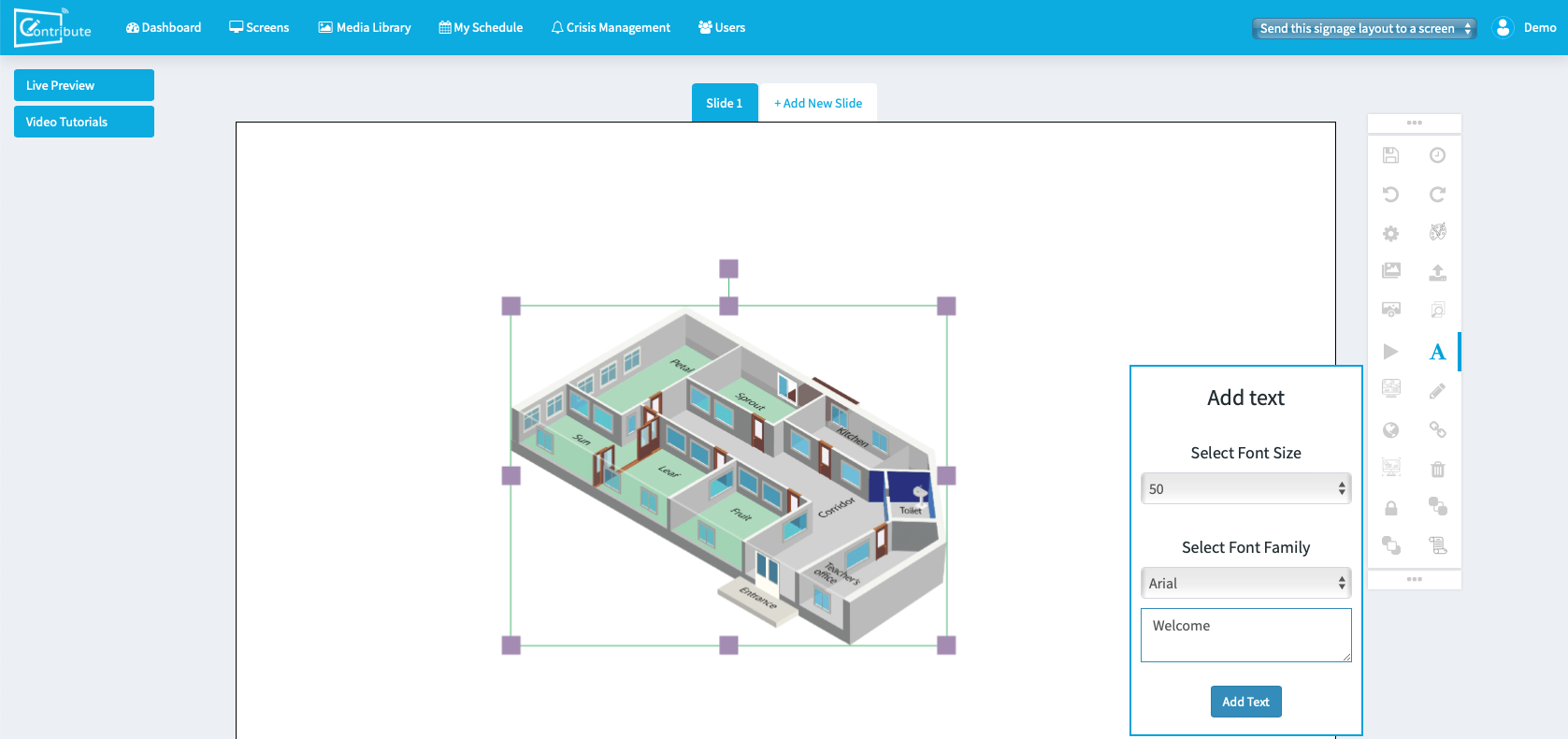 Use the Contribute Signage Online Editor to create the perfect messaging for your F3VR Check Kiosk. You can even manage multiple Kiosks from the same portal. Group them and centrally manage all your Kiosks from one location.
Suitable for almost any location
Protect your workforce, colleagues, students, customers, anyone that is in your building by monitoring elevated temperatures. Please note, this product is designed to measure temperature. It cannot be used to detect or diagnose COVID-19/Coronavirus.