As a manufacturer and software developer, we're always looking to develop quite simply the best products that we can. That however, does not always go to plan. In our 10 year history we've had a few hiccups along the way as I am sure you would expect and I've no problem in admitting this. There are two that come to mind and both had the same problem although in a different way.
TouchIT Wireless Interactive Screen – TouchIT WIS
Back in 2014, we launched the TouchIT WIS product. This was a fully integrated interactive LED that you could connect to wirelessly – one of a kind and somewhat ground breaking in terms of the integrated technology. It transmitted both the touch and the image over your network. Fantastic I hear you thinking. On paper, this was a great product. In reality, the product was far too complicated and the customers just could not get it to work. Looking back, I can only think of one corporate customer that absolutely loved it – it just confused everyone else. Great idea, too complicated in the execution.
The second product that fell short of the mark was Contribute Signage 1.0. Feature rich and customers loved it when the sales team did the demonstration. The problems arose when they came to look at it on their own – they just didn't get it. When we beat this product up ready for the re-design at the end of last year at our AGM, we concluded that we had all the right things just in all the wrong places and the wrong order. It didn't make sense and we lost the customer the moment they logged in. Go figure! Bring on the redesign.
Developing products that don't quite hit the mark if fine if as a company you can learn from this and we think we have don't just that with Contribute Signage 2.0. We think you are going to love it. Six months of redesign and fine tuning and we are ready for the world to see Contribute Signage 2.0
New Look and Feel – Meet Susie
How do you make something less complicated? Well, in our case you personify your problem in a cartoon character and let her walk you through every aspect of the software to alleviate the confusion. Meet Susie Signage.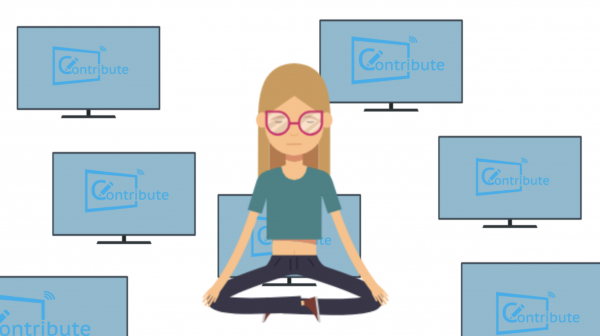 Contribute Signage 2.0 or should I say Susie walks you through every bit of the software step by step. There are helpful explainer videos through every portion. Not sure about something, watch the video!
We also have a new user interface. Our focus has changed as has the order that we want you to do things in. In short, create a layout, add a playback screen and then deploy your layout – easy. (well, we think it is now!) Any steps that we didn't need we have removed. Anything that was complicated that we didn't need we have removed. Anywhere that we think you were potentially going to get stuck we've added Susie to explain what to do.
The new (User Interface) UI is much more graphical with previews of your layouts in the dashboard. The biggest change is perhaps inside of the editor itself where you create your signage. After all, this should be the focus. The creation of your content that you want to display on the screen. Previously, we have focussed more on the management side of things which was not right, it is all about the content creation.
The Editor
We've changed the focus of the editor so that you do not have to leave the editor to do any of the tasks. Uploading images and video can all be done directly in the editor itself. There is a floating toolbar that we have "borrowed" from our annotation and collaboration software Contribute Cloud
We've also removed the constraints that were there with the layout itself. Now, all the objects can be placed anywhere you like, it is a totally fluid canvas giving you the ability to place any of your objects anywhere.
We've also added tabs so that more dynamic layouts can be created with a tabbed or Slide layout. So moving from a full screen video to a news feed and image slider after of a period of time is now possible.
We've also added more features in terms of what can be incorporated into your layouts.
Once you have created your layout, you can the deploy it to a screen, control it with a schedule and of course, we have kept the user level control in the software. What this means is that you are able to create additional users inside the software and control exactly what they are able to do in a very granular way.
We're super excited with Contribute Signage 2.0 and we would love you to try it out.
We have a fully featured 15 day trial that allows you to try all the features of the software. Check it out!
Enjoy!