In this blog post we thought it might be useful for you to have a walk through of what we generally cover in a demonstration. That way, if you are a reseller, you can tailor your own demonstration around our guidelines and if you are an end-user, you know what to expect when we visit!
The Company
Headquartered in Birmingham MI, TouchIT Technologies is a manufacturer of Interactive LEDs for the Education, Corporate and Healthcare vertical markets. TouchIT has sold product in over 35 countries World-Wide and have a whole host of interesting customers – See our Customers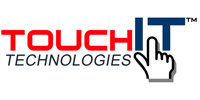 The Product Range
TouchIT has a range of interactive LEDs in sizes from 32″ to 84″ and pretty much everything in-between. We offer a 32, 42, 46, 55, 65, 70, 75, 80 and 84″ so we have a size to fit any boardroom or classroom. regardless of the size, they operate in exactly the same way. The only difference with 3 of the sizes, is we offer a UHD (4K) resolution instead of regular HD.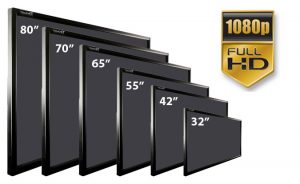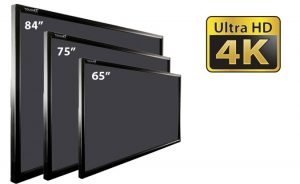 All products are durable, have a metal housing and a tempered glass finish. Furthermore, they come with a 3 year on site warranty (USA, Canada & Australia) for total peace of mind. (Read more about the warranty here)
The Setup
Setup could not be simpler, simply connect the unit to a power outlet, then a USB cable to your computer to give you the touch and a HDMI (You can use VGA on older machines. For sound over VGA you need to use a 3.5mm audio jack cable which comes in the box) for the image and sound. Under Windows there is no calibration or drivers to install so it is a true plug and play device. This is even the case if you are on a locked down network or machine, we make use of the Windows drivers. For Mac, you do need to download a driver, but it is a quick and simple process and there is no calibration.
Operation
The TouchIT LEDs operate just like a mouse. Touch to register a left click and touch and hold to register a right click. All our LEDs are multi-touch (6pt or 10pt and up to 32pt on the Fusion) so all can register gestures such as pinch to zoom or swipes left and right. This is even the case under the MAC operating system that the gestures are those that you are familiar with on the trackpad. (Read more about gestures here)
The Software
This is where you need to download a copy of the software onto your machine so you can trial it out. If you are a reseller then contact us for your reseller demo key for both TouchIT Notes or Oktopus.
www.touchittechnologies.com/getoktopus
www.touchittechnologies.com/getnotes
You don't need to know the software in and out to do a good demonstration, the key is being able to show three or four good examples of what can be achieved with the software.
TouchIT Oktopus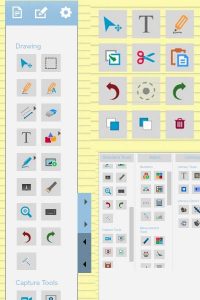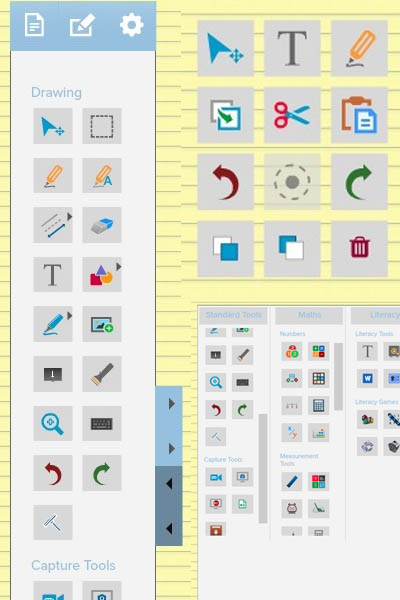 This is our educational content software and annotation tools. Organized into subject specific toolbars there are over 70 tools and 3500 pieces of clipart and content inside the software. The learning curve is very low so it is easy for ANYONE to use just the floating tools on the customizable tool pallet to annotate the screen and save their work.
Check list of things to show in Oktopus
Floating customizable tool bar
Tools, show all the tools on the screen
Tools, show how they are organized into subject specific toolbars
Pick 3 or 4 tools and learn some good examples so you are comfortable at showing what they can do. For example, use the numbers and multipliers to create a live multiplication. Show how the answer can be dragged out and further manipulated. Use the geometry tools to demonstrate how you can calculate the angle of a triangle and use the protractor to physically measure on the screen. Perhaps use the Nets tools to show how you can create a 3D object from a combination of 2D shapes. There are lots to choose from so you just need to select a couple of examples here.
Training, we have full self paced online training as well as video tutorials available on the website.
TouchIT Notes – 

TouchIT Notes is the missing link between tablet and cell phone devices and the TouchIT LED. It allows you to broadcast the content from the LED to cross-platform devices (IOS, Android, MAC, Windows) all with the same user experience. TouchIT Notes allows you to do 4 distinct things.
Presenter can have full control of the LED from a Tablet or Cell Phone device
Broadcast Content from the LED to Participants
Participants can personalize the content and save it to their device and also collaborate with the colleagues in real-time
Participants can connect remotely via the cloud.
The key to a good demonstration of TouchIT Notes is having a couple of devices connected. If you only have one tablet or cell pone device then make part of your demo talking someone from the audience through downloading the App from the App Store, and getting it up and running on their device. The more people connected to the session makes for a better presentation.
Check List of things to show in TouchIT Notes
Mouse control as a presenter
Participants joining session (LED content being shown on iPad/IOS)
Collaboration between participants
Personalization of notes
Split Screen Device view on screen
Quiz / Polling Feature
IOS Mirroring
Training, we have full self paced online training as well as video tutorials available on the website.
Post-Presentation / Demo
We have a demo recap sheet that you might find useful. If you would like hard copies of this, please let us know.