9.
Opening an Existing Workbook
To open an existing Workbook, when you first login you will be taken to the Dashboard. This is where all of your saved files are stored.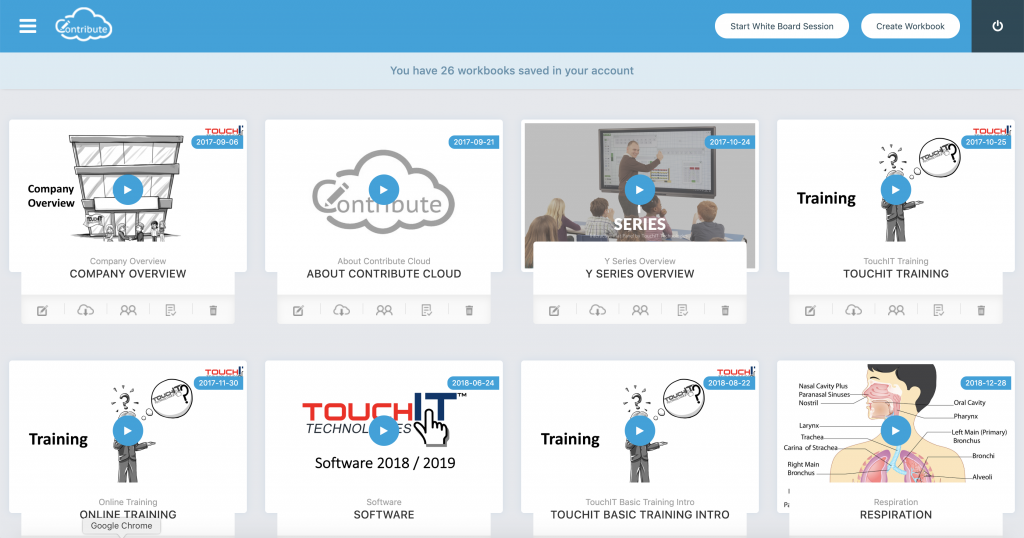 You will see that each of your workbooks has a "Play" icon in the centre, this will start a session using your saved workbook.
Underneath each Icon, you will see that there are 5 Icons.

Going from left to right
Edit Workbook Name – here you can change the name of your workbook
Download as a PDF – You will need to enable pop-up windows, then you can download a PDF version of your workbook
Start a Collaboration Session with Email Invitation – this is how you start a session and send your participants an email invitation. Either from your saved lists, or your can manually add new emails too.
Edit Workbook – self explanatory, takes you into the editor to make changes to your workbook
Delete Workbook – deletes the workbook. There is a confirmation window first and this is not reversible so please be careful.
When you click this icon, you will be taken to the workbook page where all your saved workbooks can be found. You can scroll up and down the page to view all your workbooks.